SupaScreen® Security Mesh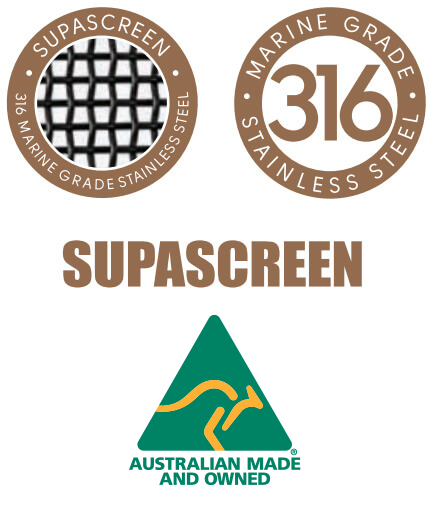 Using high tensile 316 marine grade stainless steel, woven into a fine mesh, Amplimesh® SupaScreen® is a modern innovation in security technology. SupaScreen® security screen doors are assembled using a unique patented pressure process, eliminating the need for screws, rivets, pins or snap-ins to retain the mesh panel. This system also ensures no dissimilar metal surfaces come into contact with each other, avoiding the possibility of corrosion.
We're so sure of the quality of SupaScreen® security doors and windows that we cover them with a 16 year warranty.

BENEFITS OF SUPASCREEN®
Tested to Australian Standard AS5039-2008 for maximum impact and shear resistance
Enjoy clear unobstructed 156 degree angle of view
High tensile 316 marine grade stainless steel
Unique patented pressure process
WERS rated for UV resistance and energy efficiency
Superior protection against flying and crawling insects and pests
Corrosion resistant
16 year warranty
Available in a range of frame colours
Includes standard hardware
3 point locking mechanism
SUPASCREEN® GALLERY